STATE 3A BASKETBALL CHAMPIONSHIP: Badgers take second for first time in school history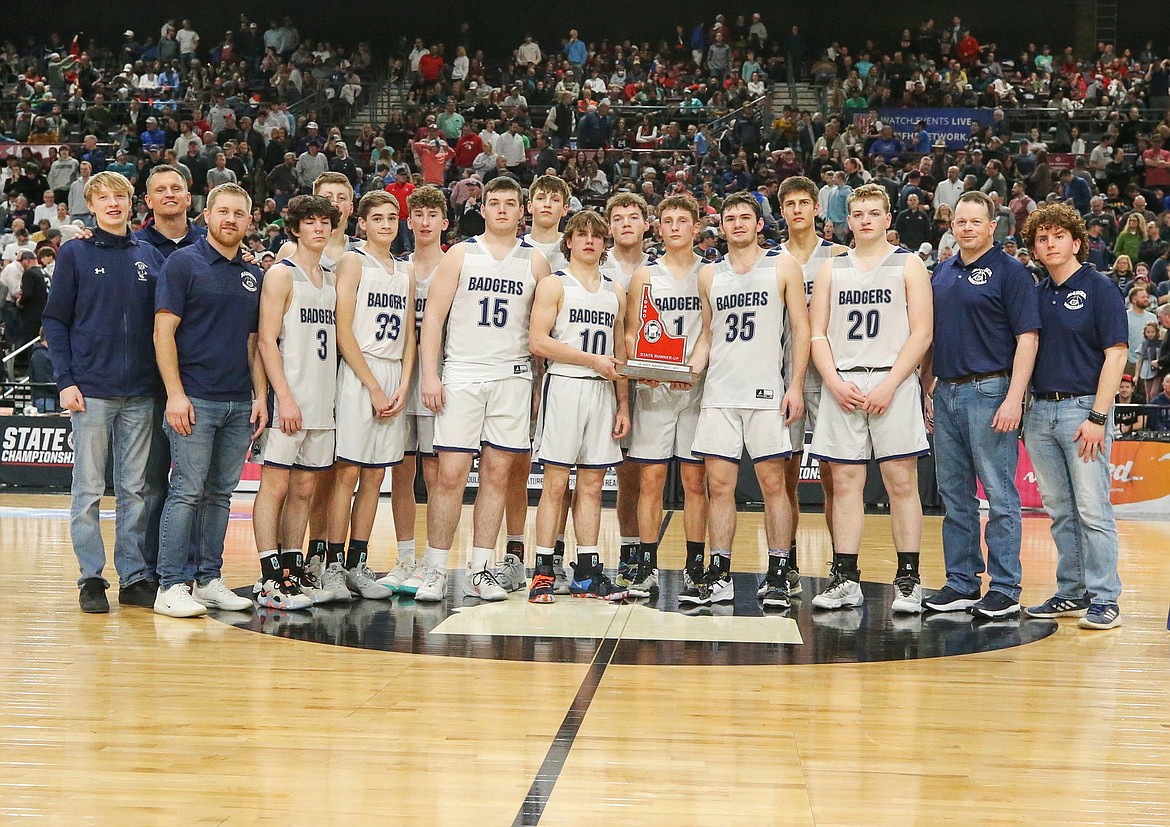 Badger boys basketball takes second at the 3A Idaho State Championship.
(Photo courtesy JASON DUCHOW PHOTOGRAPHY)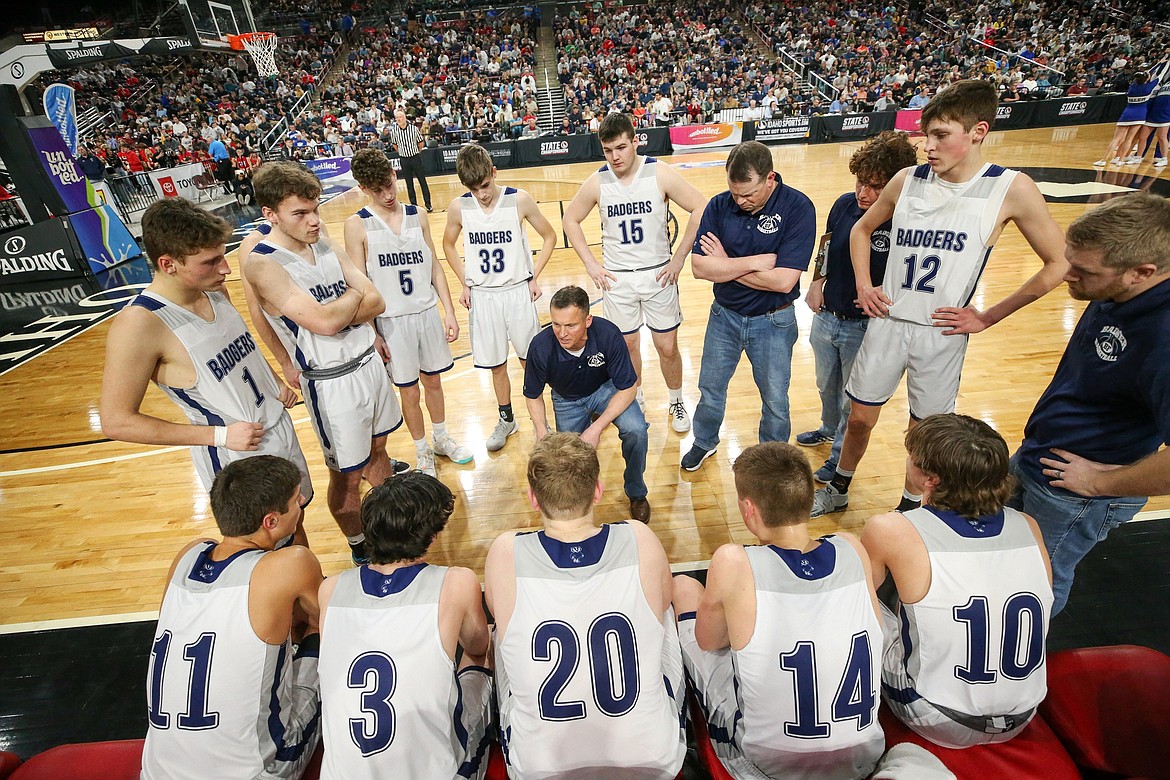 Badgers boys basketball huddle up at the 3A State Championship game on March 4.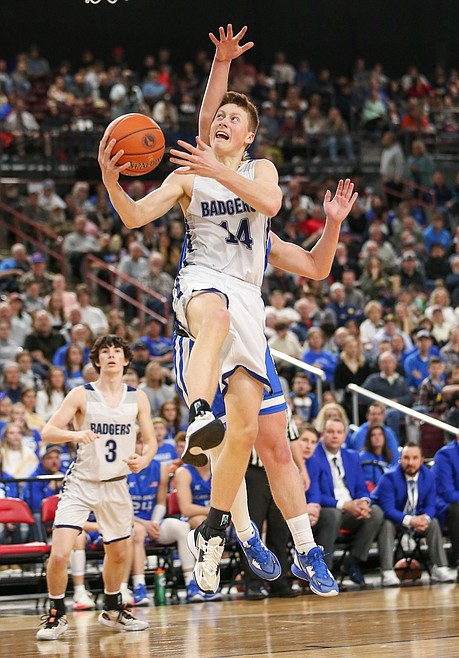 Thomas Bateman goes up for a layin against Sugar Salem at the 3A State Championship on March. 4.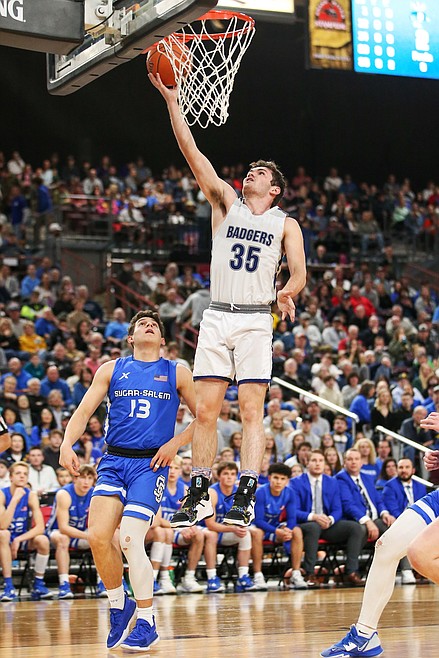 Braeden Blackmore with a layin against Sugar Salem at the 3A State Championship game March 4.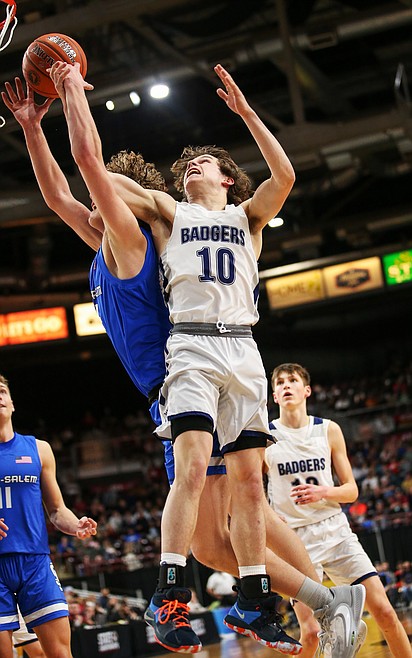 Charles Henslee goes up to block at the 3A State Championship game against Sugar Salem.
Previous
Next
by
HAGADONE NEWS NETWORK
|
March 9, 2023 1:00 AM
NAMPA — They didn't walk out of the Ford Idaho Center with the state title like they wanted, but the Bonners Ferry Badgers still accomplished something no other Badger boys basketball team had done — reaching the state championship game.
The Badgers have only placed twice in history at the 3A boys basketball championship claiming fourth in 1991 and 2007.
But there, Bonners ran into a senior-laden Sugar-Salem squad with a championship pedigree, and fell short 52-47 in the state 3A title game.
"It sucks to lose, but, changing it from my freshman year when we won, maybe 10 games, to playing in the state championship, it's unreal," said Bonners Ferry senior guard Braeden Blackmore, who finished with eight points and five rebounds. "It stings a lot that we couldn't pull away."
Bonners Ferry (23-2), the No. 1 seed, was at state for the third straight year. Two years ago, the Badgers went two-and-out. Last year, they lost in the consolation championship game.
"I'm just super proud of the boys," third-year Bonners coach Nathan Williams said. "Four years ago, our program took fourth place out of four teams in the district tournament, in a conference that was one of the weakest, if not the weakest, in the entire state. But I couldn't be more proud of their senior leadership, their sacrifice, their dedication, their parents, driving on icy roads to AAU games the past eight years. I think that's what it takes."
Koy Sanderson had 14 points and seven rebounds for second-seeded Sugar-Salem (23-3), which won its eighth state title.
Bonners Ferry used a 10-0 run to take a 10-4 lead, capped by three-pointers by senior Charles Henslee and sophomore Asher Williams. But the Badgers wouldn't score again for more than eight minutes, and the Diggers used a 13-0 run to take a lead they would never relinquish.
Struggling against Sugar-Salem's 1-2-2 zone, Bonners trailed 19-15 at the half.
"I didn't think a team could hold us to 15 points in a half," Nathan Williams said. "That was a little mind-blowing. They're a big, strong, physical team that could jump, that blocked a lot of our shots, got a lot of our passes."
"I think we came out timid," Blackmore said of playing in the nearly full Idaho Center. "We've never played in front of this many people. This is bigger than the size of our town. It's just a different feeling, and I think we came out a little timid, and we couldn't piece everything together."
Bonners shot five-of-18 in the first half, 18 of 44 (40.9%) for the game. The Badgers were five-of-16 from deep.
"We were worried; their shooting is so good," said 10th-year Sugar-Salem coach Shawn Freeman, who won his fourth state title. "You saw it; they can hit from anywhere. Usually you can sag off one guy, but the scouting report was like, let's try to keep them from hitting 3s, and keep them off the free-throw line.
"We were trying to arrive on the catch (on the three-point shooters). I've never seen a team that could catch and fire the ball so accurately … if we don't get there, it's going in, and you saw it."
Sugar opened up a 34-22 lead late in the third quarter, but the Badgers wouldn't go away. They ended the quarter on a 6-0 run, capped by a pair of short jumpers by Blackmore.
Bonners Ferry pulled to within 38-37 on two free throws by Asher Williams with 4:01 remaining, but Kelton Garner answered with a three-pointer for the Diggers, and soon the Badgers had to play the foul game.
Sugar-Salem hit 11 of 14 free throws over the last 1:37 to seal it. Garner hit 4 of 4, Brandon Cordova 6 of 8.
Sophomore Thomas Bateman hit two 3s and led Bonners Ferry with 10 points. Asher Williams added nine, and senior Ridge Williams had eight points for the Badgers, who last brought home a trophy from state in 2002, when it won the 3A consolation title.
"I really wish we could have finished it," Blackmore said, "but it's great to know the program's changed so much the last three years."
Sugar-Salem 8 11 15 18 — 52
Bonners Ferry 10 5 13 19 — 47
SUGAR-SALEM — Cordova 6, Garner 7, Lee 0, Holt 2, Sanderson 14, Leavitt 2, Gordon 3, Dougherty 9, Neal 9. Totals 16-39 17-24 52.
BONNERS FERRY — R. Williams 8, E. Blackmore 3, Hensley 3, Petesch 2, A. Williams 9, Th. Bateman 10, Tr. Bateman 4, B. Blackmore 8. Totals 18-44 6-9 47.
Semi Finals: Bonners Ferry 55 Snake River 54
Snake River 7 8 19 20 — 54
Bonners Ferry 8 9 18 20 — 55
SNAKE RIVER — Jones 0, Morrell 3, Higginson 29, Parris 0, Orr 0, Kesler 6, Ibarra 0, Coombs 14, Wray 5. Totals 19-40 11-18 54.
BONNERS FERRY — R. Williams 12, E. Blackmore 0, Rice 0, Henslee 2, Petesch 8, A. Williams 21, Th. Bateman 0, Tr. Bateman 7, Br. Blackmore 5. Totals 20-44 11-12 55.
Quarter Finals: Bonners Ferry 77, Buhl 58
Sophomore Thomas Bateman scored 16 points, grabbed five rebounds and earned Idaho Sports Player of the Game honors for Bonners Ferry (22-1). The Badgers trailed the Indians for a couple of possessions before laundering into 43-21 lead at halftime.
Trey Bateman added 13 and Eli Blackmore chipped in with 12 for the Bonners Ferry.
Buhl (9-15), outscored Bonners Ferry 25-16 in the fourth quarter and was led by Tate Trevino with 14 points and Kyler Kelly and Dominic Robles Pierce with 12 each.
Buhl:4 17 12 25—58
Bonners Ferry:12 31 18 16—77
3A Boys Basketball All-Tournament Team
Tournament MVP
Koy Sanderson, Sugar-Salem
14.3 PPG, 8.0 RPG, 1.3 APG, 1.3 SPG
Defensive MVP
Zac Dougherty, Sugar-Salem
7.0 RPG, 1.0 SPG
6th Man Award
Riley Petesch, Bonners Ferry 5.3 PPG, 5.0 RPG, 1.3 APG
1st Team
Asher Williams, Bonners Ferry
Luke Barinaga, Fruitland
Luke Higginson, Snake River
Kelton Garner, Sugar-Salem
Jarom Heuseveldt, Teton
2nd Team
Ridge Williams, Bonners Ferry
Tate Trevino, Buhl
Marcus Coombs, Snake River
Christian Gordon, Sugar-Salem
Brody Hess, Teton
Honorable Mention
Thomas Bateman, Bonners Ferry
Kyler Kelly, Buhl
Eddie Rodriguez, Fruitland
Sigmund Goode, Homedale
Broden Anthony, Kimberly
Recent Headlines
---