Battle of the Books Back at it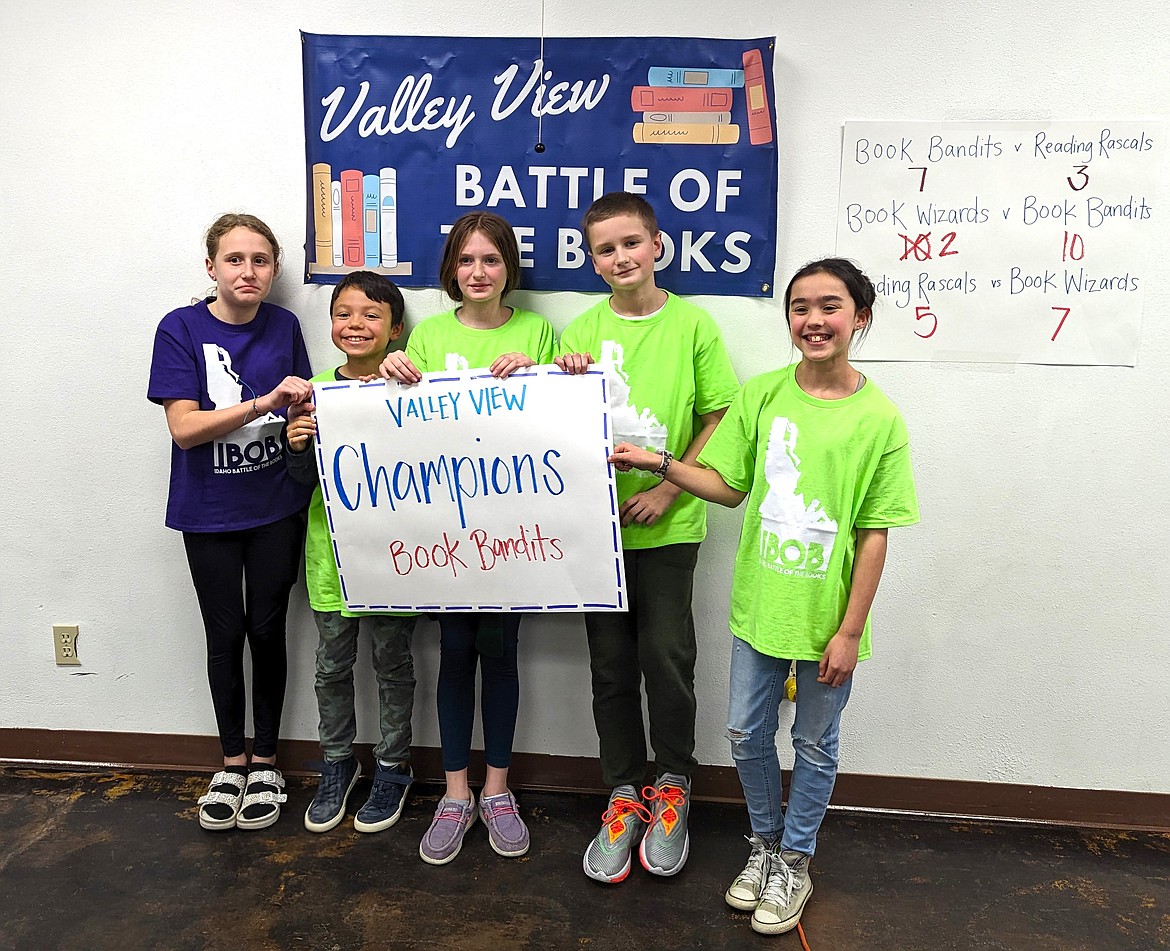 Battle champions pose for a photo. Pictured are Parker Powell, Xander Gentry, Delaney Weymer, Jay Newhouse, and Kaelan Rode.
(Courtesy Photo)
by
EMILY BONSANT
Staff Writer
|
March 16, 2023 1:00 AM
BONNERS FERRY — Valley View Elementary hosted its second Battle of the Books event Feb. 9 with elementary and junior high students competing in a trivia-style quiz bowl.
Idaho Battle of the Books is a statewide voluntary reading motivation and comprehension program open to all Idaho students in grades 4-12. Each year students read 16 books as part of the competition.
At the Feb. 9 competition, there were three teams made up of fourth, fifth and sixth-grade students from all three BCSD 101 elementaries and Boundary County Middle School. The event was hosted by Dr. Chuck Newhouse and attended by family and friends.
This year's Bonners Ferry teams will compete with neighboring schools in Sandpoint and Coeur d'Alene in a regional tournament.
A generous grant from the United Way of North Idaho has made buying books, snacks, prizes and travel possible, Melissa Bateman, fifth-grade teacher at Valley View said.
IBOB is meant to expose students to quality literature representing a variety of literary styles and viewpoints, officials wrote on the website. The mission of the program is to encourage and recognize students who enjoy reading, share the love of reading with students who have not yet discovered that for themselves, broaden reading interests, increase reading comprehension, promote academic excellence, and promote cooperative learning and teamwork among students.
Lists of books are chosen, and questions are written, for each grade level division; elementary (grades 4-6), middle/junior high (grades 6-9) and high school (grades 9-12). Students read the books, discuss them, and then compete in teams of four students to correctly answer questions based on the books in a "quiz show" format.
Half of the questions in a battle will begin with "In Which Book…," where the correct answer is the title and author. There are also "content" questions, where the title is given and the team must answer a question about that book.
Levels of competition begin at the school or local library level, and may continue into regional or even state competition, as those levels are developed with the growth of this program in Idaho.
New lists of titles for each level are compiled each year by the selection committee based on the "criteria for the selection of titles." An attempt is made to vary the titles chosen according to genre and difficulty so that readers may encounter a broad range of books.
Recent Headlines
---