Blackmore to represent Badgers at All-Star game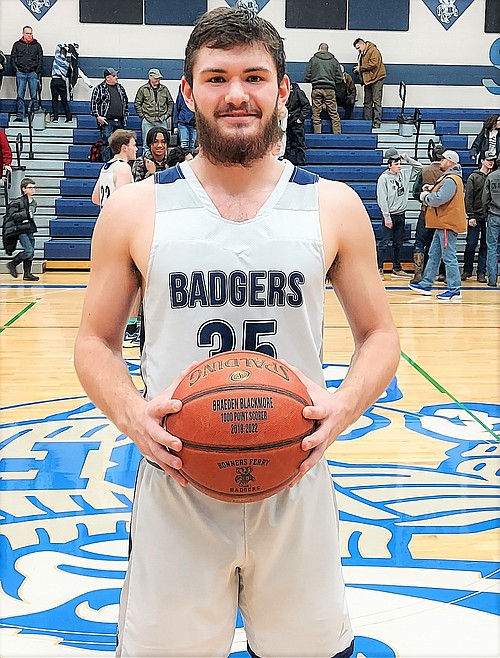 Braeden Blackmore is on the roster for the Idaho Statewide High School All-Star basketball games. Photo of Blackmore earlier in the season breaking the 1,000 point threshold.
Photo by EMILY BONSANT
Bonners Ferry High School senior Braeden Blackmore will compete at the Idaho State High School All-Star basketball games. Blackmore is the sole senior representing Bonners Ferry at the All-Star games.
When finding out he was on the roster for the game, Blackmore said it was a "complete surprise."
Blackmore thanked his parents, Penny and Barry Blackmore, and Badger boys basketball head coach Nathan Williams for challenging him throughout the season.
He is excited to compete against talented Idaho athletes that he never had the chance to play against in his high school career and to play side-by-side with familiar competition.
Blackmore said he is especially looking forward to play two particular players from North Idaho, guard Vander Brown, from Lakeside (1A) and Greyson Sands, from St. Maries (2A).
Brown totaled 29 points, nine rebounds, four assists and four steals as the Knights defeated Lapwai in overtime to win the state 1A Division I boys basketball championship.
Sands had 17 points, seven rebounds and five assists for the St. Maries Lumberjacks in a 57-46 win over the Kellogg Wildcats at the 2A state championship. The Jacks finished third.
"I'm looking forward to playing against and with D1 and 5A recruits from schools you can only dream of playing at," he said. "Playing with other basketball players from the region's teams will be very different, especially since I've played against them and never with them."
The region team will be coached by Jim Winger of the 5A Lake City, which won the 5A Idaho State Championship over Meridian 75-61.
Blackmore said although he hasn't yet met Winger, he looks forward to working with him.
On March 24, Blackmore will practice with the region boys team before the March 25 game at North Idaho College's Rolly Williams Court. The seniors-only event will feature players from the Boise metropolitan area squaring off against players from the rest of the state in a "Region vs. Metro" format.
The event will include a three-point shooting contest with the girls competing against the boys, and a slam-dunk contest at 3 p.m.
It is not known the last time a Bonners Ferry boy basketball player has competed in the All-Star game.
For girls basketball, Bonners Ferry was represented at the All-Star game in 2007 by Becky Lowther and by 2009 Ashley (Winkelseth) Martinez, who is currently a school nurse at the school district.
Badger boys basketball players have regularly competed at the seniors only District 1 All Star Games including most recently Ethan Hubbard (Class of 2022), Ty Bateman and Matt Morgan (Class of 2020), Seth Bateman (Class 2019), Chris Sabin and Brady Bateman (Class of 2018).
The All-State games begins with the girls game at 1 p.m., followed by the boys game at 3:30 p.m.
Admission to the games is $10 for adults and $5 for students and senior citizens.
The entire event will be broadcast live and free at IdahoSports.com.
BOYS
REGION — Javonte King, Blackfoot; Braeden Blackmore, Bonners Ferry; Carsn Perkes, Carey; Ty Gilbert, Grace; Kobe Kesler, Hillcrest; Blake Buchanan, Lake City; Kolton Mitchell, Lake City; Vander Brown, Lakeside; Terrell Ellenwood-Jones, Lapwai; Stanton Howell, Marsh Valley; Jakobe Jones, Rigby and Greyson Sands, St Maries. Alternates — Tyler Beresford, Bear Lake; Brady Shaul, Bear Lake; Steven Burgess, Coeur d'Alene; Scotty Hocking, Lakeland and Daniel Canfield, Watersprings. Coach — Jim Winger, Lake City.
METRO — Jakob Thompson, Boise; Ryan Willoughby, Borah; Jack Keller, Columbia; Wyatt Vining, Council; Landon White, Eagle; Jaxon Dines, Homedale; Braden Volkers, Melba; Talmage Stucki, Middleton; Gabe Navarro, Nampa; Dyson Judd, Mountain View; Eloy Chaparro, Skyview; and AJ LeBeau, Timberline. Alternates — Lance Anderson, Borah; Andrew Deedon, Centennial; Max Myers, Cole Valley Christian; Tate Ova, McCall-Donnelly and Jaydin Morin-Bishop, Payette. Coach — Spencer Trappett, Melba.
GIRLS
REGION — Taylor Smith, Century; Madi Symons, Coeur d'Alene; Josalyn Bailey, Filer; Brooke Cook, Hillcrest; Lauren Gould, Lapwai; Capri Sims, Post Falls; Kristen Wemhoff, Prairie; Kelsey Cessna, Sandpoint; Madi Keener, Mountain Home; Kennedy Gillette, Sugar-Salem; Aspen Caldwell, Thunder Ridge and Marley Spencer, Thunder Ridge. Alternates — Kendall Omlin, Coeur d'Alene; Hailey Astle, Dietrich; Tara Schlader, Prairie; Madi Andreason, Ririe and Taylor Billman, Soda Springs. Coach — Nicole Symons, Coeur d'Alene.
METRO — Caroline Knothe, Bishop Kelly; Mylie Mills, Columbia; Isabelle Eppich, Council; Gracie Castillo, Garden Valley; Hallie Arnold, Melba; Kendall Clark, Melba; Keylee Wilson, Melba; Zoe Archibald, Rocky Mountain; Brielle Magnuson, Rocky Mountain; Lauren McCall, Timberline; Piper Davis, Timberline and Mattie Shirts, Weiser. Alternates — Addie Hiler, Bishop Kelly; Logan McCarthy, Bishop Kelly; Saioa Sarria, Capital; Shae Olsen, Greenleaf Friends and Alondra Osuna, Vallivue. Coach — Dave Lenz, Melba.
The All-Star Game participants were selected by a panel of media members throughout the state of Idaho, including:
Brandon Baney, IdahoSports.com; Paul Kingsbury, IdahoSports.com; Mike Lycklama, Idaho Statesman; Mark Nelke, Coeur d'Alene Press; Donn Walden, Lewiston Tribune and Allan Steele, Post Register.
The games are presented by Idaho Central Credit Union.
Recent Headlines
---