'Pioneering a new generation'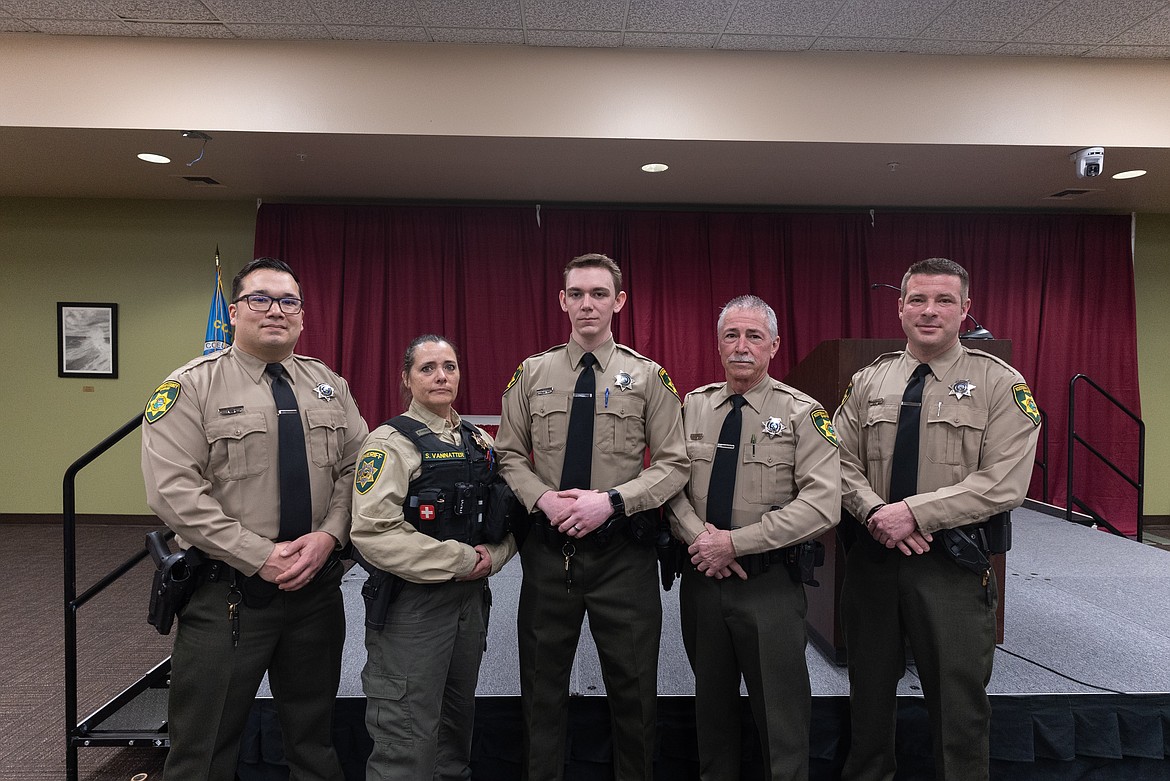 NIC Basic Detention Academy's first graduates pose for a photo at their commencement ceremony on Friday, March 10 in the Edminster Student Union Building on NIC's main campus in Coeur d'Alene. Pictured, from left, are Aaron Hall of Corona, Calif., Shannon VanNatter of Bonners Ferry, Tyler Vasicek of Birmingham, Ala., Eugene Hibbard of Coeur d'Alene and Gavin Fairbanks of Coeur d'Alene.
(Photo courtesy ELLI OBA/NORTH IDAHO COLLEGE)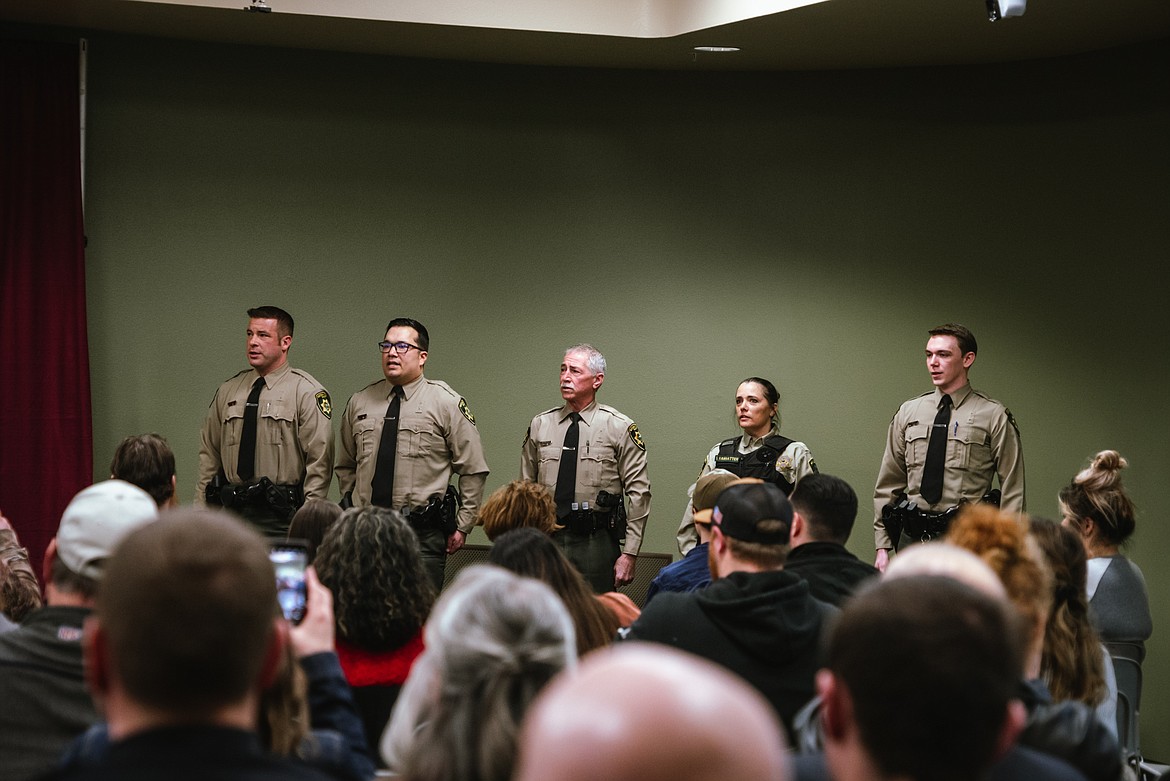 From left Gavin Fairbanks of Coeur d'Alene, Aaron Hall of Corona, Calif., Eugene Hibbard of Coeur d'Alene, Shannon VanNatter of Bonners Ferry and Tyler Vasicek of Birmingham, Ala. stand during NIC's Basic Detention Academy graduation on Friday, March 10 in the Edminster Student Union Building on NIC's main campus in Coeur d'Alene.
Previous
Next
by
GERRY McCRAY / North Idaho College
|
March 16, 2023 1:00 AM
North Idaho College held a graduation ceremony for its first Basic Detention Academy class Friday, March 10 in the Edminster Student Union Building at NIC.
Five recruits completed the nine-week program and all will continue working for local law enforcement agencies. Four graduates will work with Kootenai County Sheriff's Office and one with Bonner County Sheriff's Office.
Academy Recruit Training Officer Sgt. Chris Wagar said the state of Idaho only requires 203 hours of training for the Basic Detention Academy graduates, but NIC's program "reset the standard" at 320 hours, including 100 hours of cross-training with the college's Basic Patrol Academy.
The 15 students currently enrolled in NIC's Basic Patrol Academy attended the ceremony in support of their future colleagues.
The program began in January, almost a year after talks began between NIC and the Kootenai County Sheriff's Office to start a local academy due to the high cost of sending recruits to southern Idaho to train.
"The last time that (Academy Coordinator Lt. Jeremy Hyle) and I spoke, he talked about the program that we were going to have up here and how it would be one of the most advanced and demanding programs that detention officers go through," NIC President Nick Swayne said. "That speaks a lot to the commitment that they have toward training our law enforcement."
Class president Tyler Vasicek said he previously worked for a jail in Alabama and that training at NIC was more in-depth than his previous education and experience.
"It's challenging but it's incredibly rewarding to find out what you can do and what you are truly capable of," Vasicek said. "I think this program did a really good job of getting us engaged and there's a lot of instructors that are super passionate. I don't know if they understand how much that helps the classroom when they go up there and are passionate and excited to teach us, then we are excited to learn."
Kootenai County Sheriff Bob Norris commended graduates on "their will to survive" that he witnessed during program training and said their resilience is the foundation of a successful career in law enforcement.
Vasicek said that the class motto — "Pioneering a new generation" — alluded to the extra training in the program and raising the standard for law enforcement education.
"We're trying to change how law enforcement is and how people look at it," Vasicek said. "You still have to be a lifelong student and you still have to do more training. This is kind of a first stepping-stone and it's a really important one."
For information, contact NIC Law Enforcement Administrative Assistant Abby Owens at Abigail.Owens@nic.edu or 208-665-4522. 
Gerry McCray is a communications coordinator employed by North Idaho College.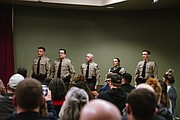 Recent Headlines
---