3A IML BASEBALL DISTRICTS: Badgers still in it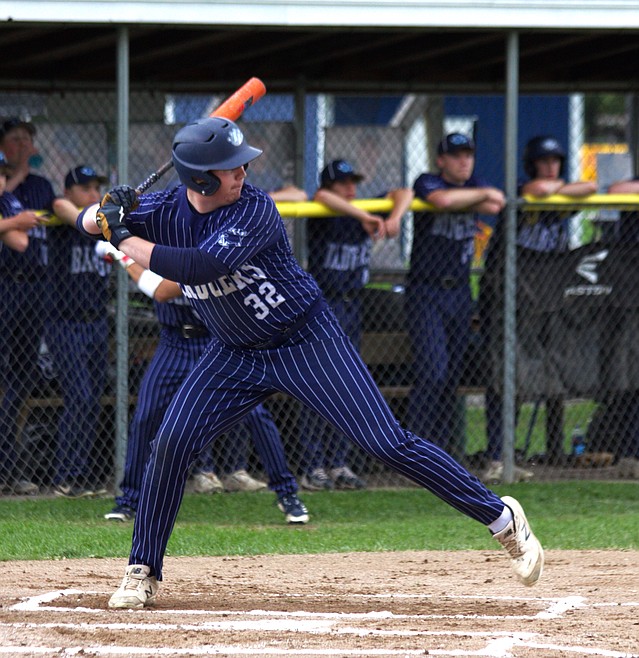 David Hammons up to bat for the Badgers in Game Two of the 3A District 1 best-of-3 series.
(Photo by Emily Bonsant)
by
Hagadone News Network
|
May 11, 2023 11:00 AM
Bonners Ferry 13
Timberlake 3
BONNERS FERRY — Win, or go home.
It's just that simple for the Tigers and Badgers today in Game Three in the best-of-3 championship series for 3A district 1.
David Hammons had two hits and four RBIs as the Badgers beat the Tigers, forcing a deciding game today at 4:30 p.m. in Bonners Ferry.
"Top to bottom, the defense was impressive with no errors," Bonners Ferry coach Tom Turpin said. "We played for everything today and our whole season comes down to tomorrow. We work all year for one day and we're looking forward to Thursday's game."
Today's winner advances to the state tournament starting next Thursday at Northwest Nazarene University in Nampa.
Bonners Ferry (17-7) had three of four games between the schools entering the postseason.
Cooper Lenz, Jesse O'Connor and JT Armes had RBIs for Timberlake (11-12), which upset Bonners Ferry 8-6 in eight innings in Monday's opening game.
Timberlake 010 020 — 3 5 4
Bonners Ferry 081 013 — 13 13 0
Game called with two out in bottom of 6th inning due to 10-run rule.
Kenny Wells, Parker Holly (6) and Caden Robinett; Roger Naylor, Blake Rice (5) and Teigan Banning.
HITS: TL — Wells, Allaway, Holly, Armes, Olivieri. BF — Bl. Rice 3, Tr. Bateman 2, Th. Bateman, Hammons 2, Br. Rice 2, Banning 2, Naylor 2. 2B — Bl. Rice, Hammons. 3B — Bl. Rice.
Recent Headlines
---