BCMS track and field teams win districts, records broken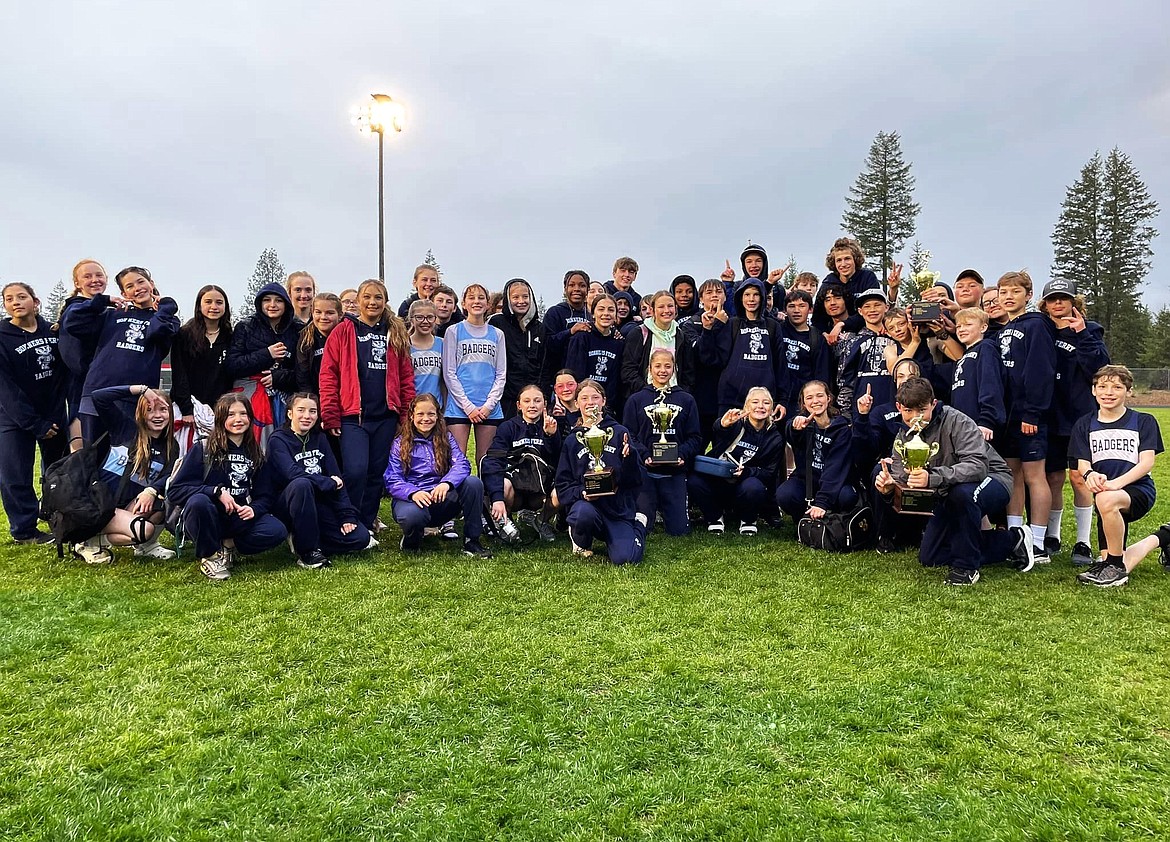 BCMS track and field teams pose with trophies after Districts on May 5.
(Courtesy Photo)
by
EMILY BONSANT
Staff Writer
|
May 11, 2023 1:00 AM
SPIRIT LAKE — For the second year in a row, three Boundary County Middle School track and field teams took first place and another took second at the Northern Idaho League Districts on May 5. School records were matched and broken throughout the season.
Both eighth grade teams took first, the seventh grade girls took first place and the seventh grade boys took second place.
There were several standout performances by BCMS track and field athletes this season.
Riley Beggerly tied the school record in high jump record at 5–8.00 at the Pries River meet and again at districts at Timberlake on May 5. The record was set in 1990 by Seth Huggins.
Ireland Grady narrowly beat the school record in the 100m during the first meet of the season at Timberlake on April 19 with a time of 13.35. The former record was 13.37 held by Sydney Hinthorn from 2021.
Taren Bateman broke the school record for girls in the 200m and 400m with a time of 27.71 and 102:96 at the Priest River Invite on May 2. The former record for the 200m was also held by Sydney Hinthorn in 2021 at 28.31. The former record for the 400m was 1:03.75 held by Erin Hiatt in 2006.
"I speak for the whole coaching staff when I say that we are proud of this team's success," said head coach Tracy Roemer. "These athletes are incredibly talented and worked very hard to get to where they are. They deserve all the recognition and praise for their dedication and effort."
It was previously reported that the eight grade 4X100 meet team also broke the school record, but upon looking through records, Roemer said this is not the case.
Districts Team Results
Only top four teams listed:
BOYS: 8th grade, 1, Boundary County 197; 2, Kellogg 89; 3, Timberlake 73, Priest River 39.
7th grade, 1, Timberlake 172; 2, Boundary County 71; 3, Wallace 41; 4, Genesis Prep 38.
GIRLS: 8th grade, 1, Boundary County 178.5; 2, Timberlake 120.5; 3, St. Maries 50; 4, Priest River 44.
7th grade, Boundary County 116.5; 2, Timberlake 75; 3, Kellogg 57; 4, Genesis Prep. 48.
In 2022, the BCMS track and field teams took first with the eighth grade girls taking second.
In 2021 the seventh grade boys took first with all other BCMS teams taking second place.
Recent Headlines
---