BFWC members qualify for Nationals and Team Idaho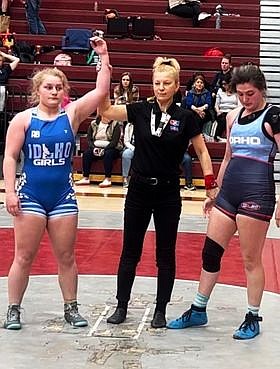 (left Savannah Rickter) wins match at Idaho State Championship for Freestyle and Greco-Roman wrestling on April 21. Rickter earned the championship in Freestyle and took second in Greco-Roman.
(Courtesy Photo)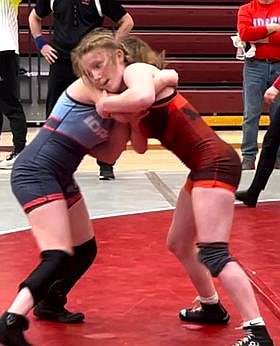 Neveah Therrien (right) competes at the Idaho State Championship for Freestyle and Greco-Roman wrestling on April 21. She earned silver in both Greco-Roman and Freestyle.
Previous
Next
by
EMILY BONSANT
Staff Writer
|
May 25, 2023 1:00 AM
TWIN FALLS — Nine Bonners Ferry Wrestling Club members qualified to wrestle for Team Idaho at the Idaho State Championship for Freestyle and Greco-Roman wrestling on April 21.
The wrestlers will now compete at the 2023 USA Wrestling Junior and 16U National Championships in Fargo, N.D., this summer in Greco-Roman and/or Freestyle wrestling in July.
All three of the BFWC girls — Savannah Rickter, Neveah Therrien and Aubrey Graves — qualified in both wrestling styles.
Rickter became a two-time Greco state champion and brought home the silver in freestyle. She wrestled for Team Idaho last summer.
Therrien also earned 107-pound weight class at the Idaho State championships in February.
Out of the boys, several BFWC members qualified for Fargo Nationals including Saber Blackmore, James Graves and Shane Sherrill qualifying for greco wrestling. Eli Leyden qualified in freestyle and William Bomba and Brandon Williams qualified in both styles.
Bomba was named champion for both styles.
BFWC faced the cream of the crop.
Williams faced an opponent with an extensive pedigree, a 4A four-time state champ, multiple national champion in folkstyle, freestyle, greco and has been a USA Wrestling World Team member who has signed with the University of Missouri.
"It didn't matter to Brandon with his nerves of steel," said Bonners Ferry Wrestling Club coach Corey Richards. "He went right after his opponent and his other matches were against two wrestlers that have earned multiple All American honors."
A wrestler qualifies for Fargo by being placed in the top three at the Idaho State Championships in either or both wrestling styles. Unfortunately, not all wrestlers that finish in the top three go on to Fargo due to the financial or time commitment.
Other wrestlers may qualify placing in the top 6 at any of the regional tournaments. This gives Team Idaho more slots for kids to attend Fargo or some of the top 3 qualifiers may decide not to attend Fargo. From there, the state wrestling director will just go down the list of placers until the three slots open for Fargo are filled.
Richards said this gives the opportunity for BFWC wrestlers to fill those slots.
Richards said the BFWC members performed well, especially considering how green the team is.
"Most of our wrestlers are in their first or second year of freestyle and greco wrestling," he said. "It's been a huge difference after having several state champs and state medalists in the club."
Previous BFWC members include Eli Richards (2x state champ 4x state medalist), Evan Barajas (state champ 4x state medalist), Jackson Rickter (3x state medalist), Marcus Regehr (2x state medalist) and multiple others.
These wrestlers competed in both wrestling styles since their early years of grade school and were on multiple Team Idaho national teams, Richards said.
Earlier this month at the U.S. Open wrestling world team trials took place in Las Vegas and Team Idaho won the greco U17 and U20 divisions for the boys.
"These were the same wrestlers that our kids wrestled against at our state tournament. Goes to show how tough Idaho wrestling is," Richard said.
Overall, the BFWC team finished fifth in Greco and 10th in freestyle out of 52 teams and over 800 wrestlers. The brackets included multiple state champions, state placers and multiple All-Americans.
Idaho Greco-Roman State Championships results for BFWC
5, Damen Therrien; 2, Dalton Regehr; 5, Blake Nichols; 4, Saber Blackmore; 5, Hunter Pope; 4, James Graves; Champion William Bomba; 4, Brandon Williams; 4, Shane Sherrill; 5, Eli Leyden; 2, Nevaeh Therrien; 2, Aubree Graves; Champion Savannah Rickter.
Idaho Freestyle State Championships results for BFWC
2, Dalton Regehr; 4, Damen Therrien; 4, Dalton Regehr; 5, Blake Nichols; 6, Saber Blackmore; Champion William Bomba; 4, Brandon Williams; 6, Ashlei Hawkins; 4, Shane Sherrill;4, Eli Leyden; 2, Nevaeh Therrien; 2, Aubree Graves; 2, Savannah Rickter.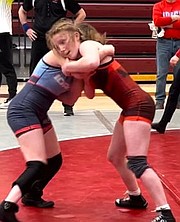 Recent Headlines
---