Lotspiech set to retire from Mirror Lake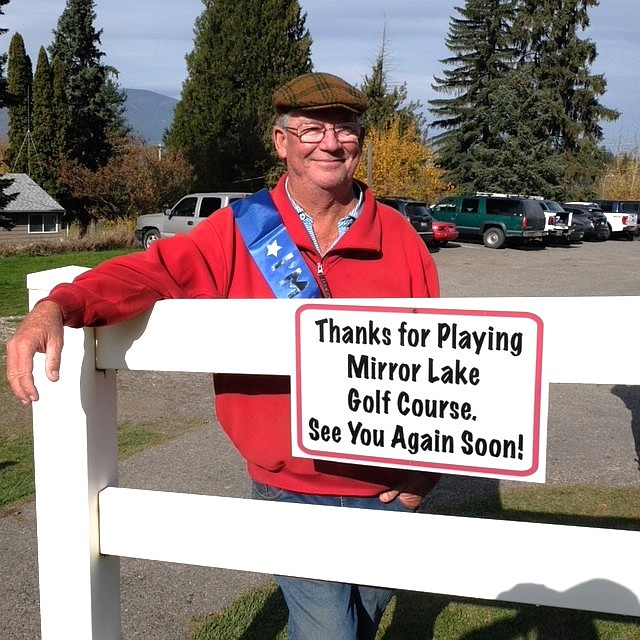 Class A PGA Head Professional, Ralph Lotspeich, is retiring as golf manager at Mirror Lake Golf Course in Bonners Ferry.
(Courtesy Photo)
|
November 2, 2023 1:00 AM
Mirror Lake Golf Course will begin a new chapter in the spring of 2024 as the course management shifts in a direction yet to be determined by the city of Bonners Ferry.
While no one knows where that path will lead, the golf community members and the general public gathered Oct. 21, to pay tribute to retiring Class A PGA Head Professional, Ralph Lotspeich. 
This open house experience allowed players and friends to gather, reminisce, and appreciate the evolution the golf course has made over the past 21 seasons. The celebration itself was emblematic of the vision Lotspeich has sought to foster during his tenure. Former managers and course supporters, who set the foundation for Lotspeich stopped by to share their regards. And this day provided a glimpse into the draw of golf as a lifelong sport. There was laughter, tears, friendly competition, the opportunity to play the course with friends, wonderful refreshments, and the surrounding scenery Mirror Lake Golf Course provides every day. 
Ralph came to the community with 20 years experience in the golf industry in 2003. He sought a place where he could work at a beautiful course, catch a few fish, and hoped to finish out his professional career. Mirror Lake Golf Course provided him the venue for many unexpected opportunities, including course changes, challenges, improvements, and the support of a vibrant community. The formation of the volunteer group, The Friends of Mirror Lake, has allowed course improvements to be made which enrich the golf experience. 
Numerous players have found their way to the game through Ralph's private lessons, the course's junior golf program, the Bonners Ferry High School program and members who invited them to become involved. Lotspeich takes pride in the number of junior golfers who have gone on to participate as individual medalists at state golf tournaments, and one who also became a member of the PGA. 
In 2020, his efforts were recognized by the IHSAA as he was named the Golf Coach of the Year.
Ralph's influence extends well beyond regular golfers as the network of people who have helped behind the scenes by providing supplies, fixing pipes, finding parts, and myriad other tasks that allow the course to function. 
Mirror Lake Men's Club president, Ed Moe, summarized Ralph's influence — not simply as an individual whose dedication will leave a legacy, but also as a person who emphasizes teamwork and big-picture thinking and whose fun-loving approach to life has created a positive culture which could not have happened without the community of Bonners Ferry and the tremendous members of his staff. 
While Ralph Lotspeich will be missed at Mirror Lake Golf Course, we wish him well in his next chapters. 
Editor's note: Article written by Julie Wiliams, Lotspiech's wife. Photos submitted by Mirror Lake clubs.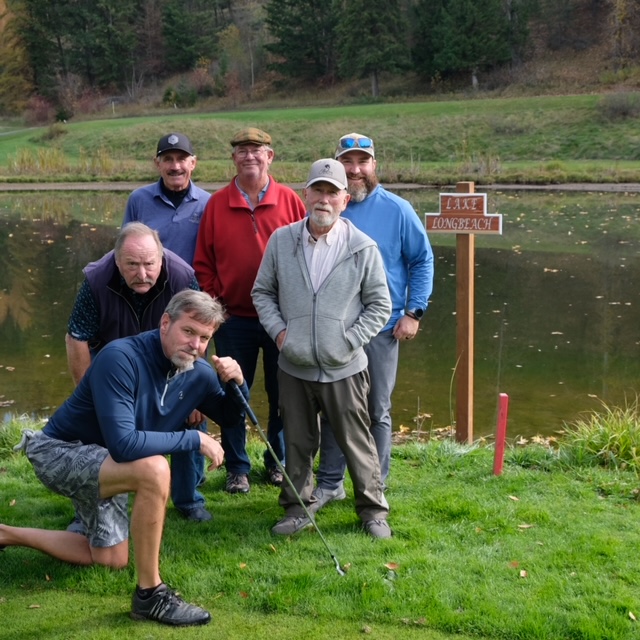 Mirror Lake Golf Club members pose with (center) Ralph Lotspiech at "Lake Long Beach" sign, which was made in honor of Lotspiech.
Recent Headlines
---