Volleyball returns to state, tie for fifth place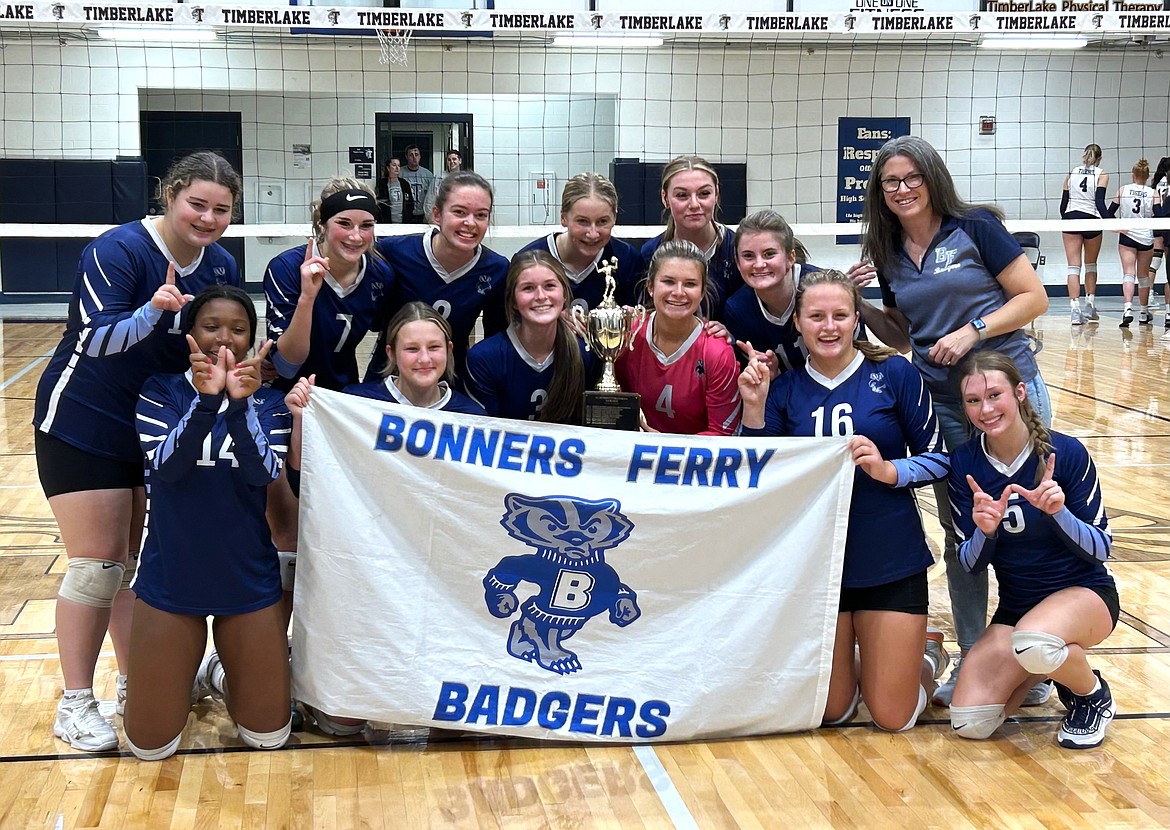 Badger volleyball wins districts by defeating Timberlake 3-0.
(Courtesy Photo)
COEUR d'ALENE — Bonners Ferry went 1-2 on the first day and finished tied for fifth at the state 3A tournament at Coeur d'Alene High's Viking Court.
This was the Badgers second straight visit to the state contest and seventh visit this century. 
In the first match, the seventh-seeded Badgers lost to No. 2 Snake River (25-14, 25-21, 25-19, before going on to beat No. 6 South Fremont (30-28, 16-25, 23-25, 25-22, 15-11). 
Bonners Ferry was then eliminated by No. 1 McCall-Donnelly (25-21, 17-25, 25-22, 25-15). The Badgers were close in the first set and won the second set over the Vandals. 
Full stats are not available for the state tournament matches. 
Bonners, which beat Timberlake to win the two-team District 1 title, finished 11-12 on the season. The Badgers have won the district championship two years in a row. 
The Badgers took fourth in 1994, the last time they returned from state with a trophy. 
Last year at state, the sixth-seed Badgers played third-seed Weiser and fell in three sets (22-25, 14-25, 14-25).
Bonners Ferry then played the No. 7 seed Buhl, which won 3-1. The Badgers were right with Buhl in the first and fourth sets, but ultimately fell to the Wolverines (24-26, 15-25, 25-23, 20-25).
Bonners Ferry top leaders season stats
Leading in kills per set: Helene Rae with 2.9 per set with a hitting percentage of 0.195, followed by Taren Bateman with 1.9 kills per set, a hitting percentage of 0.186.
Helene Rae leads the team with kills for the season with 172. Taren Bateman takes second with 112 kills for the season. 
Leading in blocks for season: Aspen Hill with 21, followed by Sara Cummings with 15. 
Leading in digs per set: Avery Bayer with 5.1 digs per set, followed with Helene Rae with 2.6 digs per set. 
Avery Bayer leads the team with digs for the season with 263, followed by Helene Rae with 157.  Avery Bayer also led the team with receptions with 253. 
Leading in aces for season: Taren Bateman with 40, Helene Rae with 36, Rylie Kimball with 34. 
Leading with aces per set: Taren Bateman with 0.7, Kimball and Rae with 0.6 per set. 
Recent Headlines
---