Holiday Markets coming to town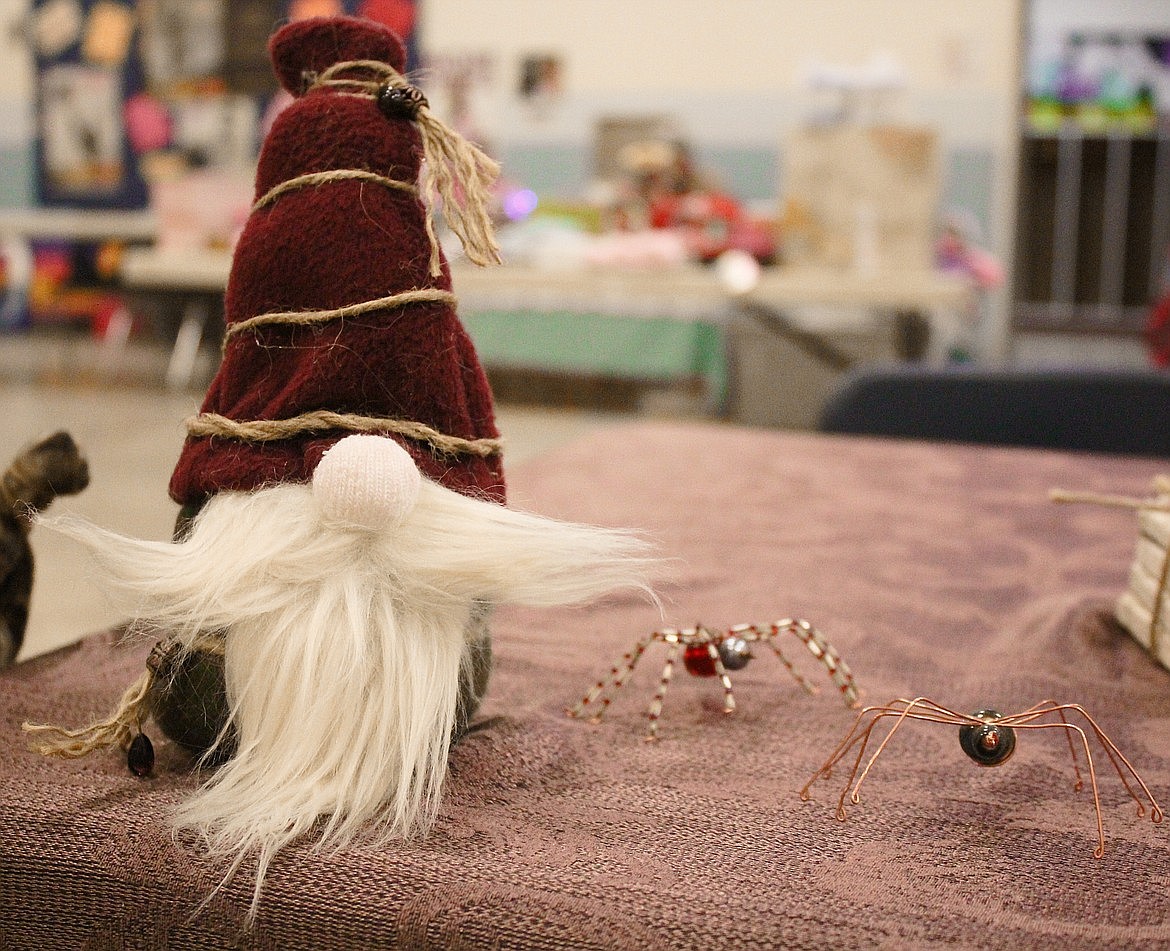 (HERALD achieve photo) Gnomes and spiders were among the available items for sale at a former Naples Holiday Craft Fair.
(Photo By: TONIA BROOKS)
|
November 9, 2023 1:00 AM
With the holidays right around the corner, winter markets and craft fairs are popping up to help area residents find the perfect gift or treat. 
Holiday Cottage Market in Sandpoint opens Saturday Nov. 11 from 10 a.m. to 6 p.m. selling jewelry, home decor, goodies, handcrafter mix media art, clothing and much more. Located at the Sandpoint Senior Center, 820 Main St., Sandpoint, the Cottage Market will be open every Saturday until Dec. 16. Stop by and browse local and regional small business vendors.  
St. Ann's annual bazaar returns to Bonners Ferry Friday, Nov. 17 from 9 a.m. to 5 p.m. and Saturday, Nov. 18 from 9 a.m. to 2 p.m. Shop handmade crafts and holiday gifts and grab some soup and a slice of pie while you're there, and pick up some homemade tamales for dinner. 
The Bonners Ferry farmers market returns for the Holiday Market on Nov. 17-18 at the Boundary County Fairgrounds, located at 6567 Recreation Pk Road, Bonners Ferry, from 9 a.m. to 3 p.m. Stop by for all your holiday goodies. The market will also return on Dec. 16, at the fairgrounds for the last Christmas shopping.
The 16th annual Vintage Christmas Market returns to the Boundary County Fairgrounds on Nov. 17 from 9 a.m. to 5 p.m. and Nov. 18 from 9 a.m. to 3 p.m. Shop upcycled furniture, goodies, jellies, handcrafted gifts, vintage Christmas items and much more. Live music provided by Luke Yates and Christy Lee. 
Moyie Springs Holiday Craft Fair is also returning Friday, Dec. 2 from 8 a.m. to 6 p.m. and Saturday, Dec. 2 from 8 a.m. to 3 p.m. More than 20 vendors will be in attendance offering crafts, goodies and gifts. Visitors will receive goodie bags.
Recent Headlines
---