Comer and Harris, A-class shooters at Washington state shooting contest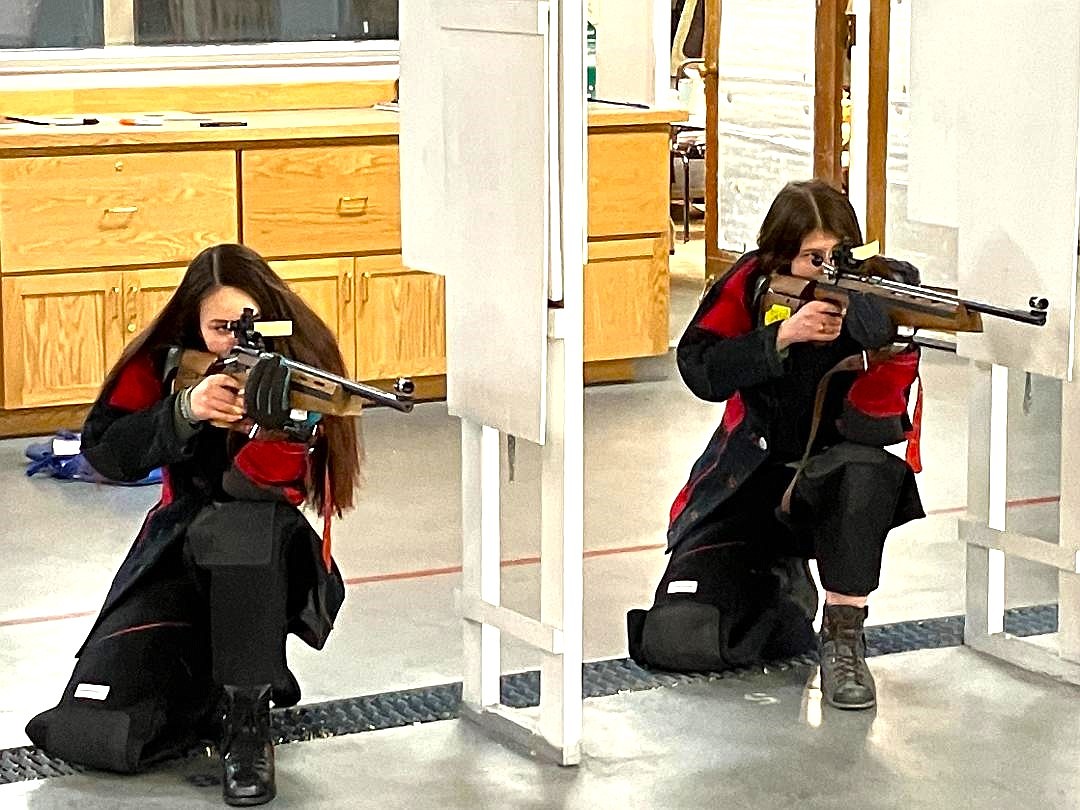 (left) Kyalynn Comer and Salix Harris take aim at the kneeling position.
(Courtesy Photo)
|
November 16, 2023 1:00 AM
Two members of the Kootenai Valley Junior Rifle Team traveled to the Spokane Gun Club on Nov. 4 to compete in the Washington State Indoor three position International Rifle Championships.
Salix Harris and Kyalynn Comer competed with 20 other shooters from across the state. A total of 13 shooters traveled from Troy, Mont., Naples and Coeur d'Alene, Idaho, Wenatchee, Wash., and the Spokane area to complete the 120-shot course of fire. 
The remaining shooters shot at the range at the Capital City Rifle Club in Tumwater, Wash. The scores from both venues were combined to determine the state champion.
The competitors used single-shot .22 rifles, with iron sights, shooting indoors at a target 50 feet down range. The ten is not much larger than the period at the end of this sentence. 
The course of fire is four targets of 10 shots each, in the kneeling, prone and standing positions. 
Comer, in her last year in the sub-junior class (14 years old and younger) improved her score by 178 points over last year's record and won her class. 
Harris shot in the largest group with 14 shooters as an intermediate junior (15-17 years old) and took fourth for the female class. 
The shooters were also separated by an average score from past matches, no matter their age, and both Comer and Harris were A-class shooters along with 10 others. 
Comer took fifth and top female in this group.
If you are interested in learning more about or returning to, the sport of competitive shooting, stop by the range Wednesday or Thursday at 6:30 p.m., or call Don Jordan at 208-610-0226. 
Recent Headlines
---