Turkey Trot returns for 15th anniversary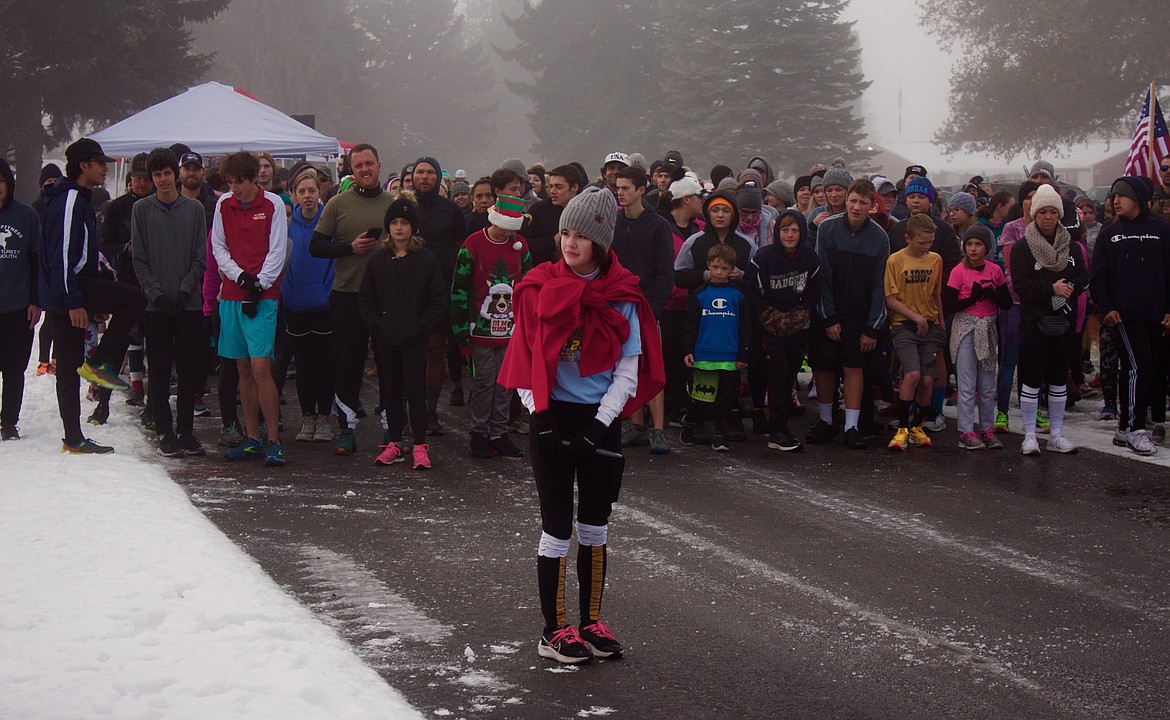 Sydney Beckle, BFHS track and XC runner playing "Tom the Turkey" at the 2022 Turkey Trot.
(Photo By: EMILY BONSANT)
|
November 16, 2023 1:00 AM
BONNERS FERRY — For many county residents, Thanksgiving morning starts with a warm cup of hot cocoa followed by a 5K run at the annual Turkey Trot at the Boundary County Fairgrounds.
Every year local runners, families and friends come out to run or trot the 5K or 10K race; sometimes they even don festive wear or costumes. The event has attracted swarms of people over the past several years as more families make the run a holiday tradition. 
Last year, a record 351 runners came out and nearly 1,000 pounds of food was donated to the Bonners Ferry Food Bank.
For the second year in a row, Turkey Trot has continued the "Run down Tom the Turkey" addition to the run. 
Each year, a special guest is selected to play "Tom the Turkey," and gets a 20-second lead to start the race. "Tom" stands out, wrapped in a red cape and turkey baster in hand. The goal is for a runner to pass "Tom," thus earning the turkey baster. The runner who crosses the finish line with the turkey baster wins a prize. 
With runners passing each other and taking the lead, the turkey baster could pass from, and to, multiple runners.
This year's "Tom the Turkey" is Jack Woods, a Bonners Ferry High School cross-country runner. Last year's Tom was Sydney Beckle. 
"We loved this idea when Carolyn [Turkey Trot organizer] asked for a "Tom" last year," said BFHS cross country coach Tyler Warner. "It's a fun way for the team and even their friends to participate in a little competition, hold some bragging rights, and of course — the prize."
The event is free and organizers ask that participants bring a food donation for the food bank.  Dogs are welcome. Costumes are encouraged, but not required. (Although nothing is more satisfying than beating someone at the finish line when you're dressed as a turkey.)
The event begins at 9  a.m. sharp at the Boundary County Fairgrounds, 6567 Recreation Park Road, Bonners Ferry.
The route leads runners down Riverside Road to the 5K turnaround past Mirror Lake Road. The 10K continues past the 5K turnaround and will be marked with cones. The water station is near the 5K turnaround. 
"It's a nice little out-and-back, and Jim Cadnum has generously measured out both distances with his running wheel," said Birrell.  
"Without our volunteers each year, there wouldn't be an annual Turkey Trot. Talk about being thankful," she said. 
There will be pumpkin pie with whipped cream and hot cocoa with marshmallows and coffee at the finish line, along with tons of prizes. 
"We even have a few prizes for best costume," Birrell said. "Our local merchants are so generous every single year with their prize contributions and they're still coming in."
Be sure to arrive early enough to get your prize number. Shout-out Turkey Trivia starts at 8:45 a.m. There'll be a burn barrel to keep you warm and music will be provided by Adam Reeves' Forerunner Entertainment.
"The run remains free, no registration, and we try to time everyone when we have a volunteer for that. It's a great way to earn your second piece of pie before 10 a.m.," Birrell said.
In the spirit of giving thanks, participants are asked to bring a non-perishable food item for our local food bank. 
Questions can be directed to Carolyn Birrell at 208-290-7039.
Recent Headlines
---