Coalition BF is back, continuing to establish community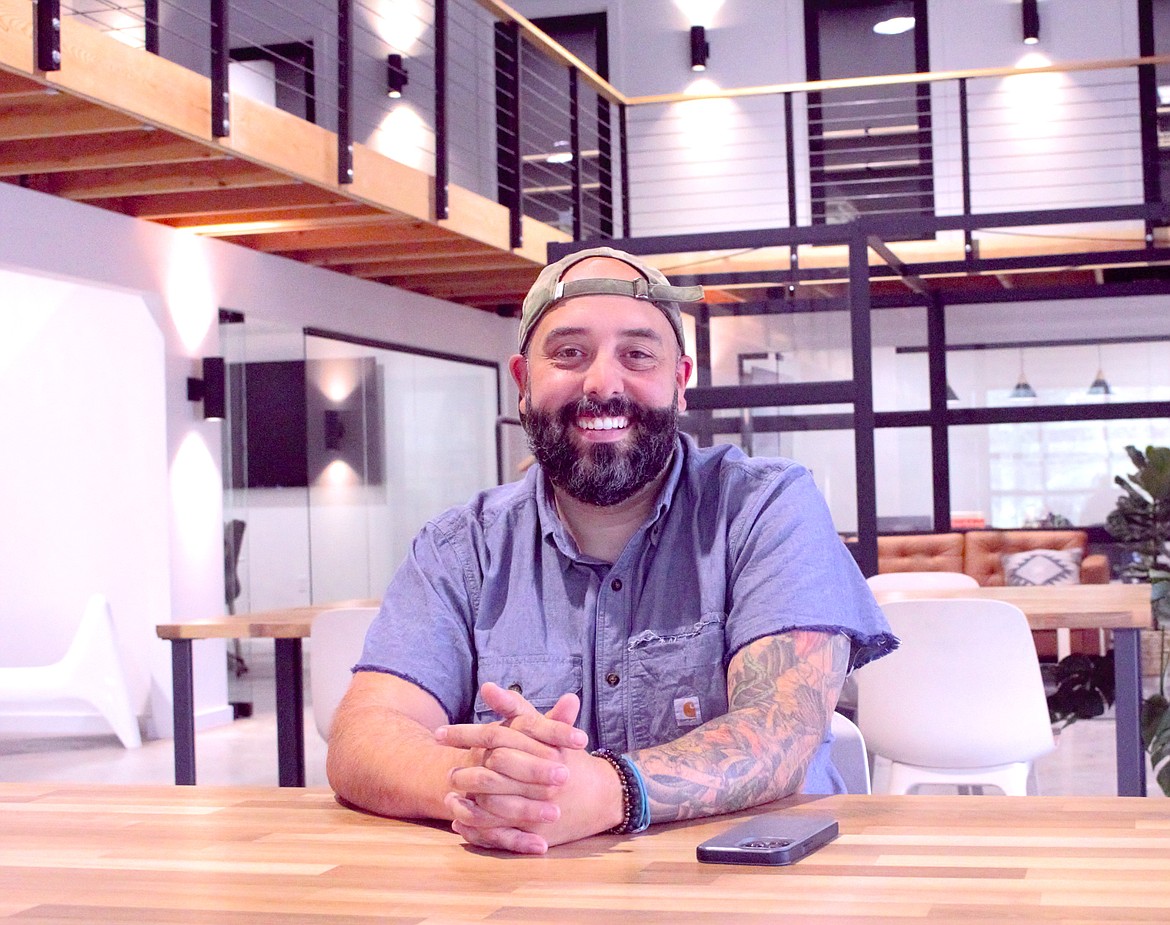 Tim Garcia, owner of The Coalition Bf, a co-working space with the mission to create a community around entrepreneurship and skill-sharing for startups, freelancers, remote-employees, or anyone scouting new opportunities.
(Photo By: EMILY BONSANT)
by
EMILY BONSANT
Staff Writer
|
September 7, 2023 1:00 AM
THREE MILE — The Coalition BF, a shared co-working space, has moved and expanded to the North Hill, continuing its mission to create a community around entrepreneurship and skill-sharing for startups, freelancers, remote-employees, or anyone scouting new opportunities.
The Coalition closed for approximately six months as a new location was built. They were originally housed on Kootenai Street in Bonners Ferry, where the teascarlet studio is currently located.
Owner Tim Garcia said the original location was small, which hindered the community that he hopes to create in the space. The limited space resulted in a lack of desk space. As a result, he wasn't able to have as many users, which hindered the entrepreneurial spirit he hoped to foster.
At the previous location, the Coalition operates like a vending machine, as members used apps to sign in and use amenities, such as a free printer without needing a staff member's assistance.
The new location on Plato Street, behind the former Yoder's Market, is an open and inviting space of approximately 7,500 square feet, providing natural light and establishing an almost coffee house atmosphere conducive to working and networking if desired.
The Coalition offers desk spaces, offices and conference rooms for rent. In addition, a coffee stand manned by Lore Coffee Roasters is also available with luxury coffee, with additional offerings to come in the future.
The Coalition was not created overnight. In 2017, Garcia started a coworking meet up at the Plaza Downtown, where office spaces are rented out. At the site, Garica and other small business owners and remote workers would meet up and work in a shared space. Eventually they began to outgrow that space, and the idea of Coalition slowly came about.
He saw a need in the community for workspace outside from the home for small businesses owners who don't need a brick-and-mortar space for customers and the many people who work remotely in Boundary County.
Compared to the Plaza Downtown, Garcia said the Coalition is something else entirely as the focus is not separate office space, but shared space with the goal of establishing connections with other users and local entrepreneurs.
By being in a large space, it allows additional members to work in their own quiet space, while allowing connection and networking for those who want that, Garcia said.
In order to help establish community and organize networking opportunities, TD Holladay has been brought on as community director. She has the goal of connecting other professionals and continuing the positive and entrepreneurial spirit at the Coalition.
"Already all the members know each other," she said, hoping to continue the friendly and neighbor-like interactions and eventually foster networking through hosting mixers and other interactions.
The Coalition is open, but will have additional amenities coming, such as additional partitions between desks, a video and podcasting studio, phone booths, a printer, shipping center and much more.
A monthly membership costs $99, which is equal to about $5 a day. Single day entry is $25. Printing is included in the membership and daily fee.
The Coalition is open Monday through Friday from 8 a.m. to 5 p.m.
Information: thecoalitionbf.com
Recent Headlines
---