XC veterans see great gains, new runners get moral boost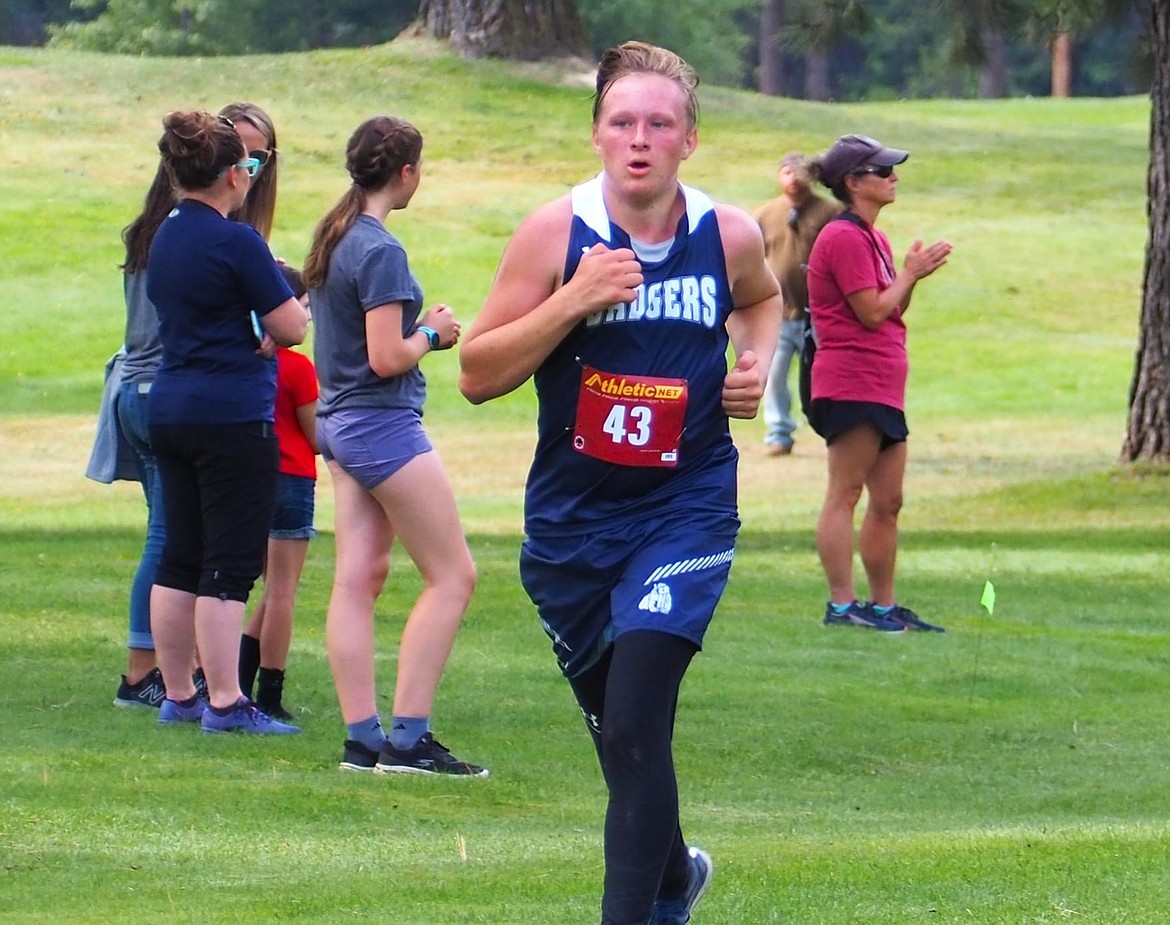 Nate Murray runs for Bonners Ferry at the Libby Invite earlier this season.
(Courtesy Photo: Badger XC)
by
EMILY BONSANT
Staff Writer
|
September 7, 2023 1:00 AM
POST FALLS — Badger cross country veterans saw great gains at the Post Falls River Run at Kiwanis Park on Thursday, Aug. 31.
The River Run is organized not by variety or JV standings, rather by classes, which allows runners to compete exclusively against their peer group.
Bonners Ferry head coach Tyler Warner said that for younger runners, the course was a morale boost, considering most of our team did reasonably well.
"For our veterans, across the board, we saw great gains made from last year on the same course, some by over a minute," he said. "We had a couple folks finish in the top one-third of their races, Sydney Beckle had a great day and was racing confidently on Thursday."
"We were able to take concepts we'd practiced all week and apply them on this course, which is very technical. Hills and turns make you have to approach the race strategically, it's not just about speed, but where you exert speed or how you attack hills to make sure you have gas in the tank later in a race," he said.
The Badgers have more eligible runners who have gained enough practices to compete at Farragut State Park this Saturday. This will be a preview of the district course and a chance to see how Bonners Ferry stacks up in 5K competition from across the state.
"It's usually a well attended race by southern schools. It's just another chance to improve and learn," Warner said.
Bonners Ferry runners times only are listed below.
Girls
Freshmen/Sophomores — BF: 14, sophomore, Matisyn Stiern, 14:41.1; 37, freshman, Ruby Law, 17:42.4; 43, sophomore, Piper Banning, 18:20.8.
Junior/Seniors — BF: 11, Sydney Beckle, 14:13.0; 27, Braylyn Bayer 16:08.5.
Boys
Sophomores — BF: 15, Micha Thomson, 12:39.7; 20, Cole Phillips, 13:02; 26, Jack Woods 13:35.2; 28, Matthew McCabe 13:39.9; 35, Jackson Fielder, 14:39.9.
Juniors — BF: 30, Nate Murray, 15:27.6.
Recent Headlines
---