SOCCER PREP: Badgers face league opponents, girls play packed schedule
Jess Fess heads the ball for the Badgers on defense against Timberlake Sept. 8.
Photo by EMILY BONSANT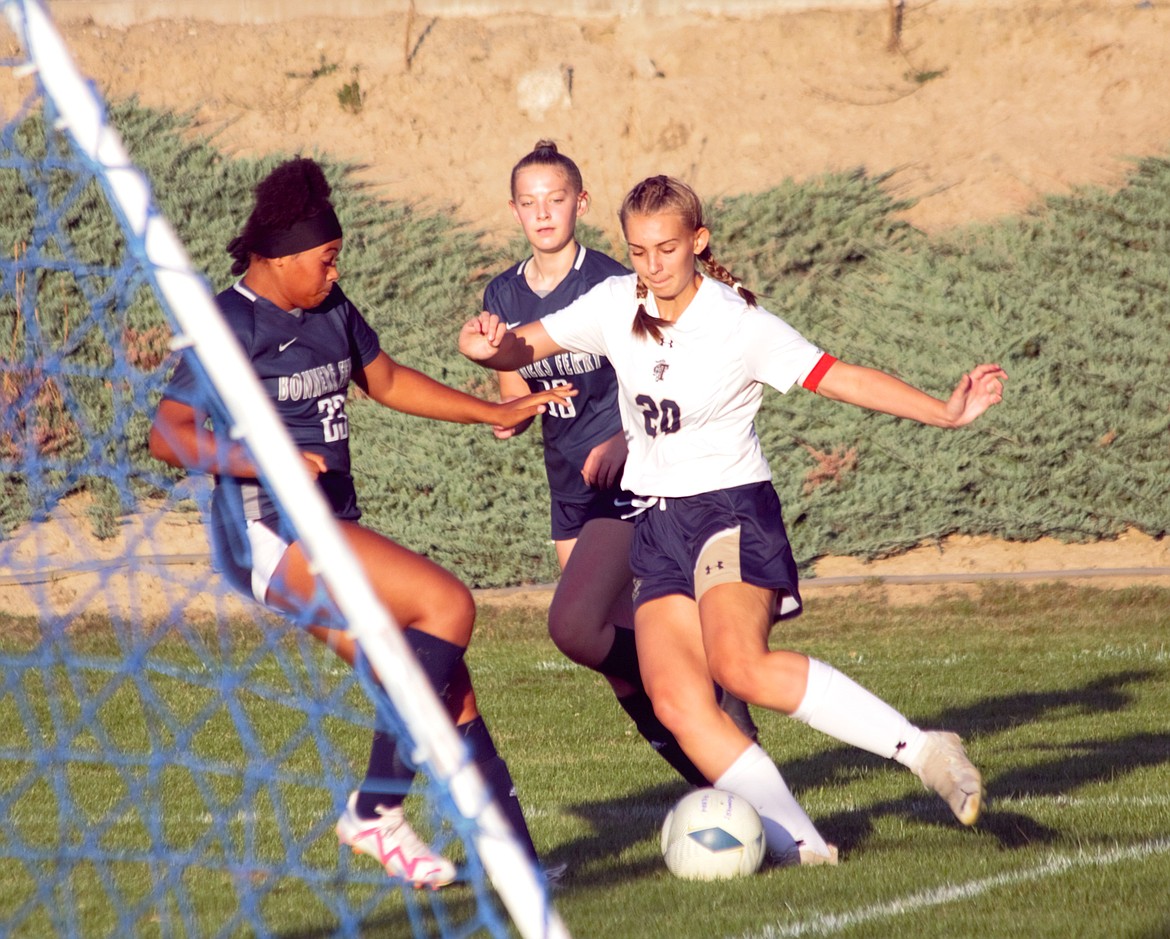 Asha Abubakari (left) plays defense for the Badges against Lucy Simpson #20 for Timberlake on Sept. 8.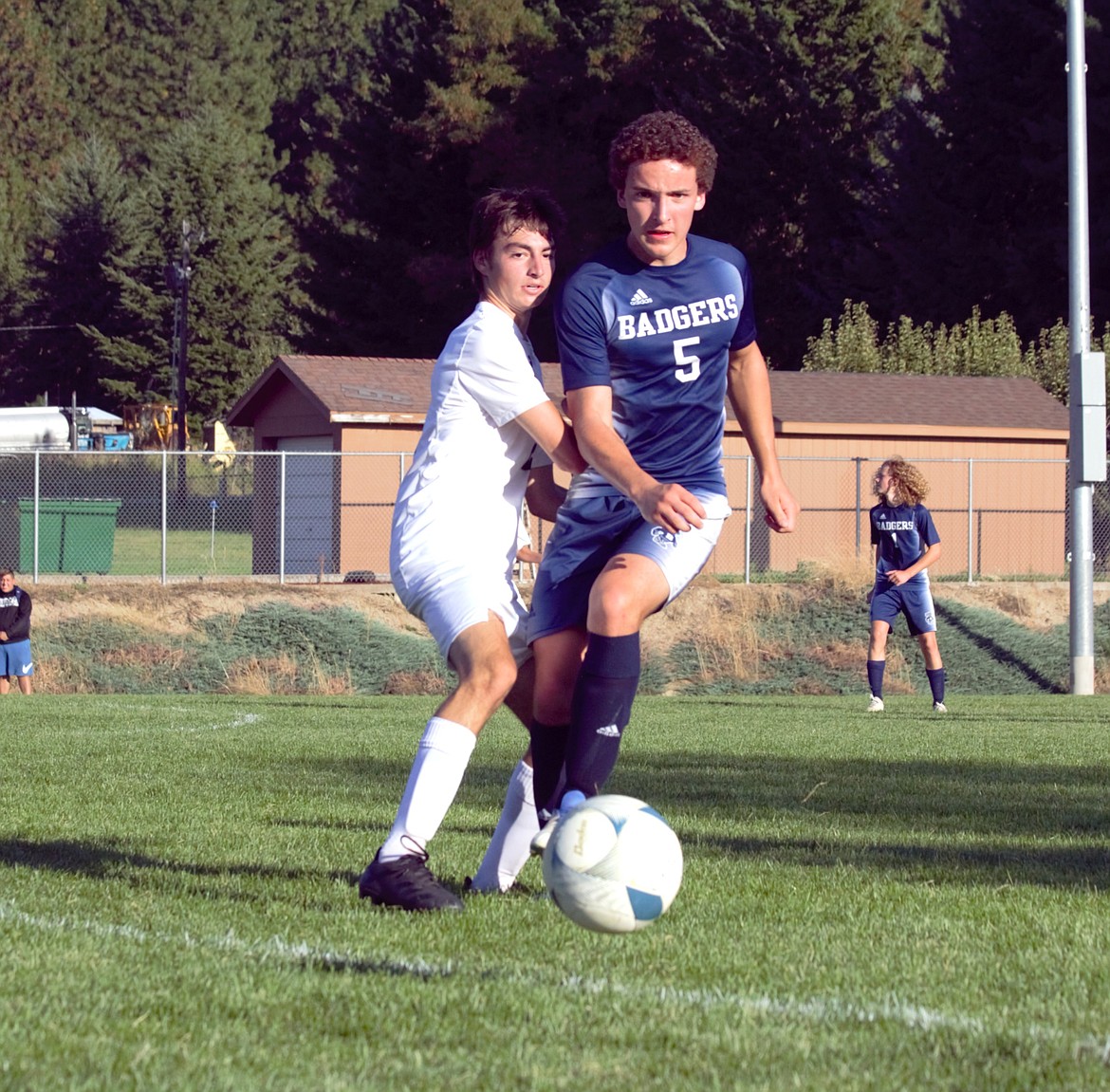 Chandler Swanson recovers the ball on defense for the Badgers against Timberlake on Sept. 8.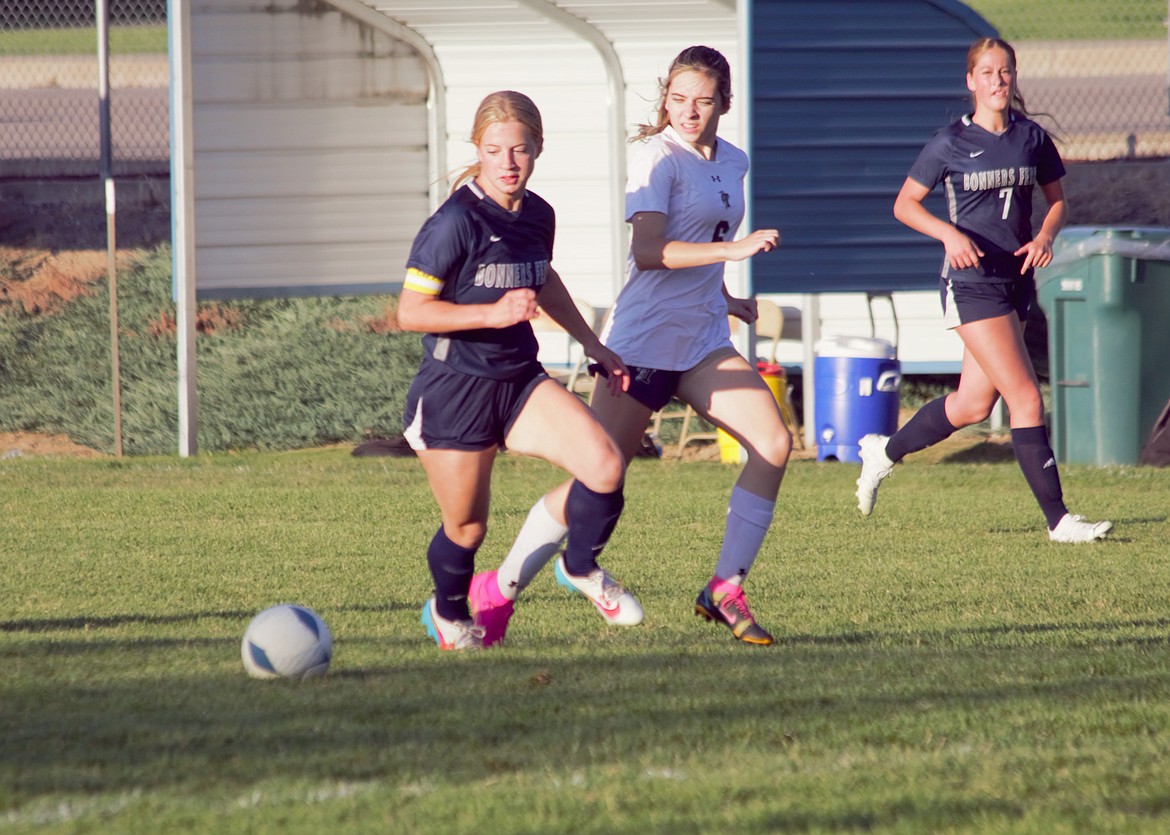 Lindsey Onstott recovers the ball for the Badgers against Timberlake on Sept. 8.
Previous
Next
by
EMILY BONSANT
Staff Writer
|
September 14, 2023 1:00 AM
BOYS SOCCER
Bonners Ferry boys soccer split a pair of games between Intermountain League opponents Timberlake (5-2-2, 4-1-2 IML) and Coeur d'Alene Charter (3-0-, 3-0 IML) last week, defeating the Tigers 5-0 and falling to the Panthers 2-1.
The Badgers are 3-1 in conference play and 3-3 overall; they are ranked second in the 3A District 1, behind CDA Charter.
Sept. 9: Cd'A Charter 2, Bonners Ferry 1
POST FALLS — Anthony Haler and Taylor Smith scored for the Panthers in an Intermountain League win over the Badgers at The Fields.
Coeur d'Alene Charter coach Craig Daigle credited sophomore defender Liam Hughes for helping preserve the win.
"Liam was strong all night," Daigle said. "He made a game saving play against Bonners' top attacker in the last five minutes that was huge for us."
Charter scored early and held the lead for the remainder of the eighty minutes, Bonners Ferry head coach Paul Bonnell said.
"Adjusting to the fast play of the artificial turf, we struggled some to play "our game," but did rally with a goal scored.
The goal was scored by a lofting through ball by Jesse Dye which was played by Eli Newell and followed up with the score by Nikita "Nik" Rawson.
"In the midfield, Chandler Swanson and Eli Blackmore fended off drives by the Panthers, and it really was anyone's game with scoring opportunities on corner kicks late in the game for the Badgers," he said. "We couldn't quite pull off the tie, despite our best efforts in the second half."
This week Bonners Ferry hits the road against Grangeville and Orofino, both league games. Next Monday J.V. plays at Post Falls and varsity is away at Timberlake next Tuesday.
Coeur d'Alene Charter played Timberlake on Wednesday, but the results will
(3-0-1, 3-0-0 IML) hosts Timberlake on Wednesday at The Fields.
First half — 1, Charter, Anthony Haler (Joe Nicklay). 2, Charter, Taylor Smith (Sebastian Baker). 3, BF, Nikita Rawson. Second half — none.
Shots on goal — BF 8, Charter 6.
Saves — BF, unknown, 4; Charter, Mattis Macmillan, 4.
Sept. 8
Bonners Ferry 5, Timberlake 0.
BONNERS FERRY — The Badges shut out the Timberlake Tigers on Friday, Sept. 8, winning 5-0.
The Badgers moved the ball well, getting good crosses and pushing up to the goal, leading 3-0 at halftime.
In the final nine minutes of the match, the Badgers scored two more goals.
"In the Timberlake game on Friday, we played the way we have been practicing to play, with intensity from the opening whistle, looking for scoring opportunities and working on passing and control as well as through ball passes," Bonnell said.
"Communication was a key factor in the game's outcome, with a strong dynamic between midfield and offense, leading to goals by Jesse Dye, Eli Newell, and Nik Rawson," he said. "Wings Kadyn Chouinard, Riser Hanson, and others, supported both offensive drives and defense containment."
GIRLS SOCCER
Badger girls soccer played three games in four days and faced IML opponents Timberlake (6-0, 5-0 IML), CDA Charter (4-0, 3-0 IML) and non-league 4A District II Lakeland (1-4, 02), losing in all three matches.
Sept. 11: Lakeland 5, Bonners Ferry 0
BONNERS FERRY — Sophomore Karstyn Kiefer, normally a midfielder, was moved up to forward and and ended up notchingnotched two goals and an assist as the Hawks blanked the Badgers in nonleague play.
"She's just been playing physical, and playing hard, and we needed someone to put it in the back of the net," Lakeland coach Kevin Rogge said.
Junior Ruby McIntosh notched her first shutout for Lakeland (2-4-0).
"I think we will have a much better shot at Lakeland when we aren't exhausted and injured from having three of our hardest games in four days," Bonners Ferry head coach Emily Winebark said. "It definitely took a toll on the girl's confidence, so our job this week is to reset, breathe, trust our skills, and get back to basics."
Bonners Ferry is 3-3-0.
First half — 1, LL, Karstyn Kiefer (Natalie Rose), 29:00. 2, LL, Katie Cameron (Kiefer), 34:00. Second half — 3, LL, Kiefer (Kyndall Dolin), 54:00. 4, LL, Aspen Liddiard (Brooke Gregory), 56:00. 5, LL, Paige Rose (Regan Wright), 57:00.
Shots on goal — LL 18, BF 3.
Saves — LL, Ruby McIntosh 3; BF, unknown, 11.
Sept. 9: CDA Charter 4, BF 0
COEUR d'ALENE — Fresh off a loss by Timberlake, the Badges fell against Coeur d'Alene Charter 4-0.
"Friday, the full hustle and effort was there, but technique was lacking," Winebark said regarding the Timberlake game.
"I felt like Saturday against Cd'DA, they started putting together passing sequences and having more confidence in their technique, leading to a 4-0 loss, the smallest margin we have ever had on Cd'A Charter," Winebard said.
Charter has been first in IML for the past six years.
Sept. 8: Timberlake 6, BF 1
BONNERS FERRY — Timberlake held the majority of the possession against Bonners Ferry, leading 0-3 at halftime.
The Badgers came strong after half, looking to score. At approximately the 43rd minute, the Badgers' Maddie Hart, for the Badgers, took the corner kick and out of the scuffle, Lilly Krejci swooped in and scored the lone goal for Bonners Ferry.
Lucy Simpson attacked the goal for Timberlake, scoring and earning at least a hat trick. Hadassah Davis also scored two goals for the Tigers.
Full stats were not available for Timberlake.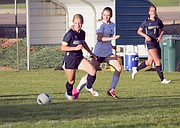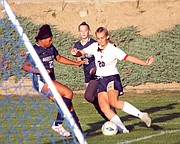 Recent Headlines
---